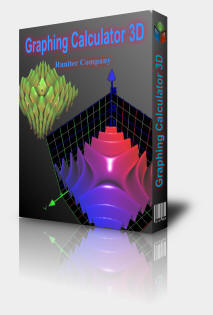 Graphing Calculator 3D is an easy-to-use tool that plots 2D and 3D functions.
- Plot regular and parametric equations.
- Plot coordinates tables.
- Instant quick plotting after each key stroke.
- Cartesian/Polar coordinates in 2D.
- Cart/Cylindrical/Spherical coordinates in 3D.
- Inequalities in 2D and 3D.
- Animation and variable slider in 2D and 3D.
- Rotate and zoom in the graphs in real-time.
- Shade 3D graphs for optimum visualizations.
- Fully customizable axis.
- Import coordinates from excel and csv files.
High Quality Graphs...
This 3D grapher plots high quality 2D and 3D graphs. Graphs can be shaded with custom gradual colors along x, y or z axis. In 3D graphs, the lighting is enabled to demonstrate the depth of the surface through shades and shadows.
Fast Graphing...
Our 3D grapher produces quality graphs instantly while you are typing an equation. It also allows real-time rotation, translation and zooming by dragging the mouse.
Comprehensive Math Graphing...
This 3D grapher includes a wide variety of mathematical features and coordinate systems. Cartesian, Polar, Cylindrical and Spherical coordinates are supported for 2D and 3D equations. In addition parametric equations are also supported for all the aforementioned coordinate systems. Loading coordinates from an excel or csv file is a breaze. There are over 40 built-in math functions and constants. If that is not enough you have the ability of defining your own constant, variables and functions.
Easiest Graphing Calculator...
Graphing equations has never been any easier. Simply type a function and observe the graph that is generated instantly after each key stroke. The intuitive user-interface of our 3D grapher is designed with frequency of use in mind. The frequently used tools and options are only one click away.
Amazing Visualization...
Visualization of 3D and 2D equations is incredible and not seen before in any other 3D grapher. Both centered and surround axis are available in 3D mode with semi-transparent glassy plates that make visualization of the 3D graphs even easier.
Try Online 3D Grapher...
Try the online Graphing Calculator 3D now inside your browser. Simply click on the above and wait until the applet is loaded.
Download 3D Grapher...
You may also download 3D grapher and install it on your machine free of charge. This is the best graphing calculator software available for free download. Download is available for Windows (including Vista), Mac, Linux and Unix.
You can have three options: